Basic info, prices, and timetable – we've made up a manual for you not to get lost when you go underground.
Basic Info
The Minsk metro network is not that difficult to understand: for now, it has only 2 lines with the third being under construction.
The two lines contain 29 stations and form kind of a letter "X".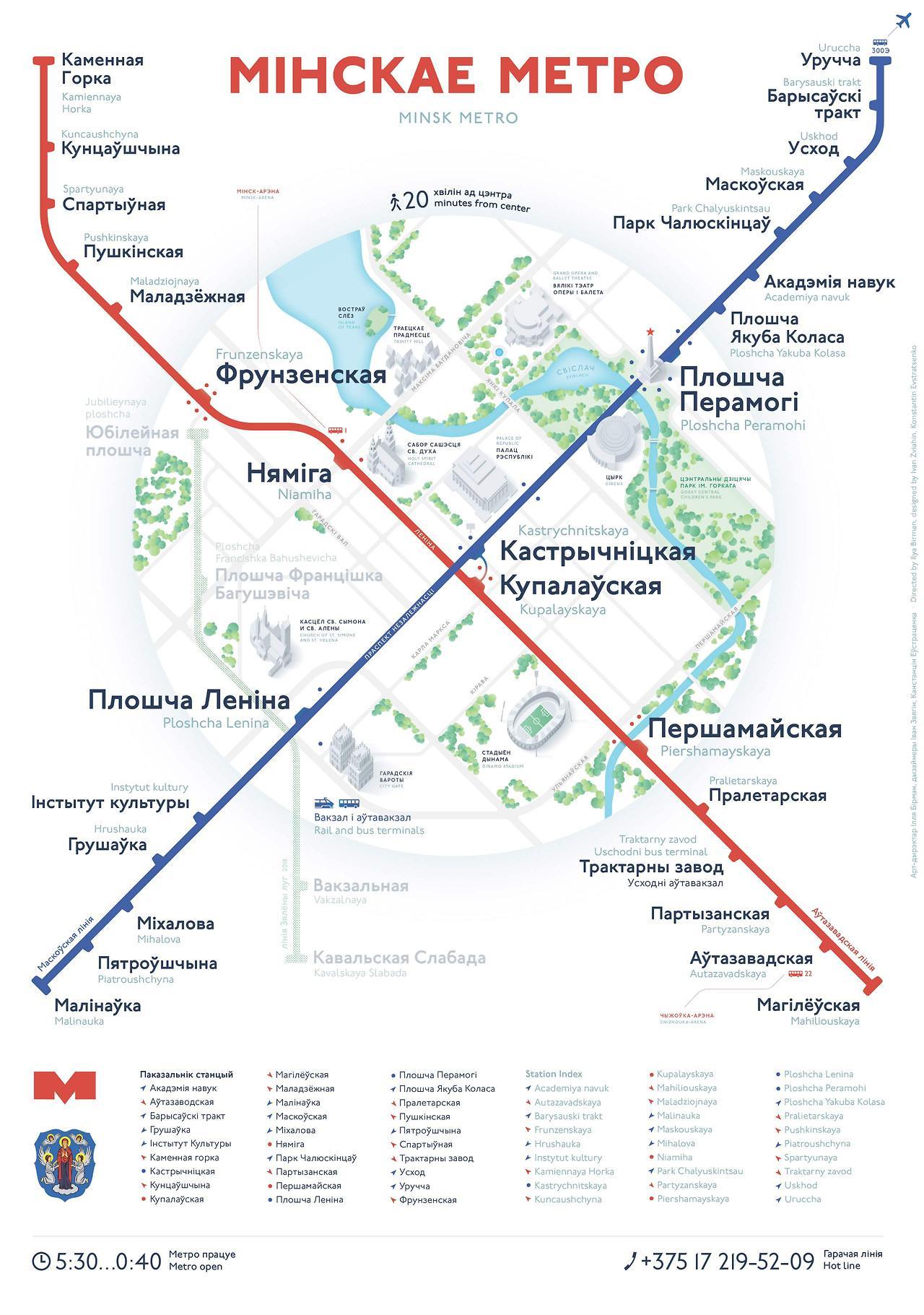 Maskoŭskaja line has 15 stations:
Malinaŭka - Piatroŭščyna - Michałova - Hrušaŭka - Instytut Kultury - Płošča Lenina - Kastryčnickaja - Płošča Pieramohi - Płošča Jakuba Kołasa - Akademija Navuk - Park Čaluskincaŭ - Maskoŭskaja - Uschod - Barysaŭski trakt - Uručča.
Aŭtazavodskaja line consists of 14 stations correspondingly:
Mahiloŭskaja - Aŭtazavodskaja - Partyzanskaja - Traktarny Zavod - Praletarskaja - Pieršamajskaja - Kupałaŭskaja - Niamiha - Frunzienskaja - Maładziožnaja - Puškinskaja - Spartyŭnaja - Kuncaŭščyna - Kamiennaja Horka.
You can pass from one line to the other at Kastryčnickaja / Kupałaŭskaja stations.
The third line will last from Zialony Łuh area in the north to Kurasoŭščyna in the south crossing the existing lines at Płošča Lenina and Frunzienskaja stations.
Minsk metro differs from many others in its shallow depth – it's about 10-17 m only.

Brief History
Minsk is the only Belarusian city that has metro for now – and that's because a city of the former USSR needed to reach at least 1 million inhabitants in order to get the subway built. So in 1977 the government finally managed to issue an order about the metro construction.
The first line – Maskoŭskaja – was opened on June 26, 1984, and had only 8 stations. The second line – Aŭtazavodskaja – appeared on December 31, 1990, with 5 stations.

Timetable
As all the public transport in Minsk, the subway opens quite early, at 5.30 a.m., and closes at 12.40 a.m. Yet, during some national celebrations, the doors of the metro are open to the later hours: it's usually announced 1-2 days before.
The first trains come to the terminal stations Malinaŭka and Uručča at 5.32 a.m. and to the terminal stations Kamiennaja Horka and Mahiloŭskaja at 5.33 a.m.
The last trains depart from the terminal stations Malinaŭka and Uručča at 12.42 a.m. and from the terminal stations Kamiennaja Horka and Mahiloŭskaja at 12.43 a.m.
During rush hours the metro is really a much better way to get to your destination as we do have traffic jams on the roads and metro trains come every 2-3 minutes. But if you're going to use metro during the day or later at night be ready to wait for the train about 5-12 minutes. Average time to get from station to station is about 2 minutes.
Lifehack: If you need to take a subway at night and change the lines during your trip, don't catch the very last train not to get stuck.

How to Find the Entrance
Normally you can access all the stations via pedestrian subways which are marked with the red letter "M". There are only 3 stations that have entrances in existing buildings: Płošča Lenina and Kupałaŭskaja / Kastryčnickaja, and all 3 of them are situated in the very center of the city. You can also easily find these entrances because of the red "M" above the door.

How to Pay
Buy a token for 1 trip
Go to the special kiosk which you can find near the entrance to the platform and ask there for a token ("zheton") which you put into a special hole of a pay-gate and when the green indicator appears you may pass and enjoy your trip. Once you've paid and entered, you can use all the stations of both lines. The price of a token is 0.65 BYN (€ 0.3).
Buy a swipe card for several trips
There are different types of cards: with the number of trips paid (10, 20, 30, 40, 50 trips available during 60 days or 60 or 100 trips available for 80 days) or with an unlimited number of trips for several days (e.g. 10 days, 15 days, 1 month). There is also an option to buy a swipe card for 2 or 3 days, but in this case, you need to choose metro + any other means of transport – metro solo is not available. The cost of the trip with a swipe card results less: for instance, for 10 trips card you'll pay 6.17 BYN (€ 2.66), for 20 trips – 12.09 BYN (€ 5.22). But note that if you're buying a swipe card you'll need to pay for it too – the cost is about 2 BYN (€ 0.9), but you can get this money back when you return the card.
Pay with your bank card or smartphone
Not long ago we've got the opportunity not to waste our time standing in the queues and pay just in a contactless way with the help of the bank cards such as Visa PayWave and Mastercard PayPass. Also, since recently, you can use your mobile phone with NFC technology. You just need to put your card or smartphone to the special device at the pay-gate and it will charge you the price of a token.

How Not to Get Lost Underground
Don't be afraid to get lost – you can find schemes in every carriage and at the stations. All the stations have numbers – you can notice them on the tables in the trains. The numbers are three-digit (e.g. Malinaŭka has number 110, Mahiloŭskaja – number 210). The first figure means the number of the line, then goes the number of the station. So far, the very first station is numbered with "10". That was made in order not to change the figures later when new stations are added.
All stations except Pieršamajskaja have island platforms so you don't need to think what side to get off the train.

Security Rules
At all the stations, escalators and passages keep to the right so you won't be hit by bustlers or people going in the opposite direction.
Be aware that if you are carrying some large baggage, you can be asked to let the security check it. All the stations are equipped with special areas where you can be asked to go through metal detecting archway and your bags can be checked by X-ray.

Accessibility
Minsk metro is still working on being inclusive: all the stations that were opened after 2001 (Mahiloŭskaja, Spartyŭnaja, Kuncaŭščyna, Kamiennaja Horka, Malinaŭka, Piatroŭščyna, Michałova, Hrušaŭka, Uručča, Barysaŭski trakt) have elevators for mobility challenged people. In the future, all metro stations should acquire such equipment.

Architecture
Most subway stations in Minsk were built at the times of USSR, so you will certainly get that strong vibe of the Soviet idea once you go down there. Some of the old stations designs are really appealing. Kastryčnickaja has some elements that go back to the times of October revolution (actually, word "Kastryčnik" means "October" in Belarusian). At Płošča Lenina you can see a column with hammer and sickle, Traktarny Zavod ("tractor factory") has lamps in the form of tractor wheel, and Płošča Jakuba Kołasa station is a real artwork: columns are tiled with golden ceramics where you can see stylized national ornaments.

Tricky Questions
Although the metro network itself is really easy to understand, you still can be confused by some names and locations. Remember them so you can orientate as a local.
Maskoŭskaja Station vs. Maskoŭskaja Street: the station is located to the northeast of the city, but the street is situated in a totally different part – near Instytut Kultury Station;
Mahiloŭskaja Station vs. Mahiloŭskaja Street: the same story. The Street is again near Instytut Kultury station and Mahiloŭskaja metro station located to the southeast;
Płošča Lenina Station (Lenin Square) is actually Płošča Niezaležnasci (Independence Square).