We are exploring Minsk specialty coffee scene. Check out 10 coffeehouses in Minsk offering classic and alternative brewing techniques.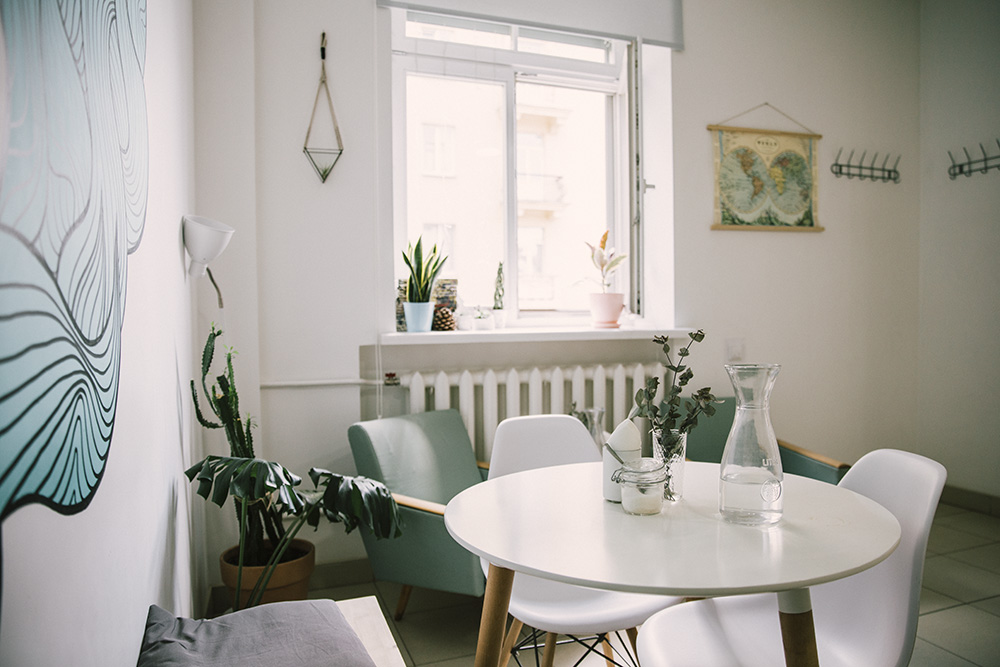 1, vulica Załataja Horka
Mon-Sun 8 a.m.-10 p.m.
This tiny coffeehouse has been opened recently, though you already can't imagine Minsk without it. It's located in the city center, but in a pretty secluded and hidden place. The guys roast beans by themselves, and here you can try classic and alternative brewing techniques, as well as small but delicious desserts.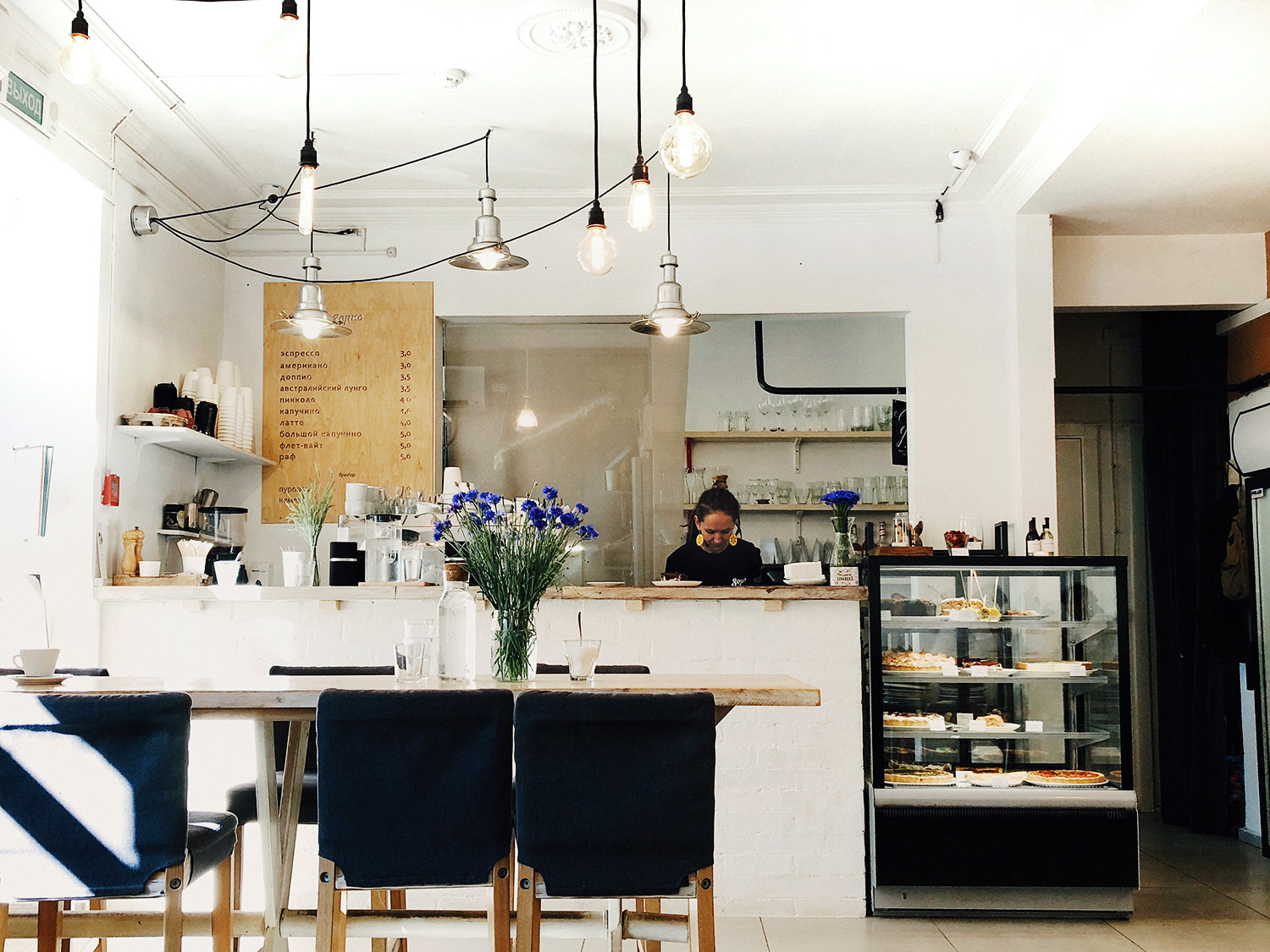 praspiekt Niezaležnasci,46;

vulica Kazlova, 6
Mon-Sun 9:00 a.m.-11:00 p.m.
Zerno was one of the pioneers of alternative coffee brewing in Minsk. Now it's one of our favorite places and a must-visit spot in Minsk. Both coffeehouses are located near Płošča Pieramohi. Besides excellent coffee, they offer delicious pastries, e.g., quiches, berry pies and not too sugary cakes. Their specialty is Irish coffee with alcohol. And there is always a changing exposition on the walls – exhibitions of local artists and photographers.
Out on the terrace by Niezaležnasci Avenue we filmed an episode of 34 Music Sessions with electronic musician Deech.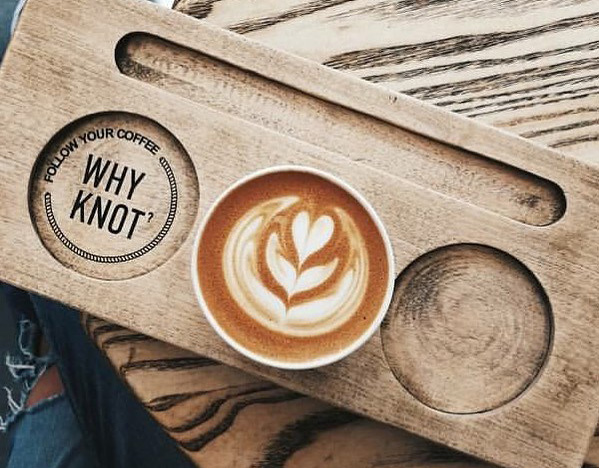 vulica Vaładarskaha, 21
Mon-Sun 9 a.m.-11 p.m.
A light coffee house on a cozy street in the city center near the railway station. Classic and alternative brewing techniques, light and minimalist interiors. Get a dessert, or a croissant with stuffing to a cup of your favorite drink.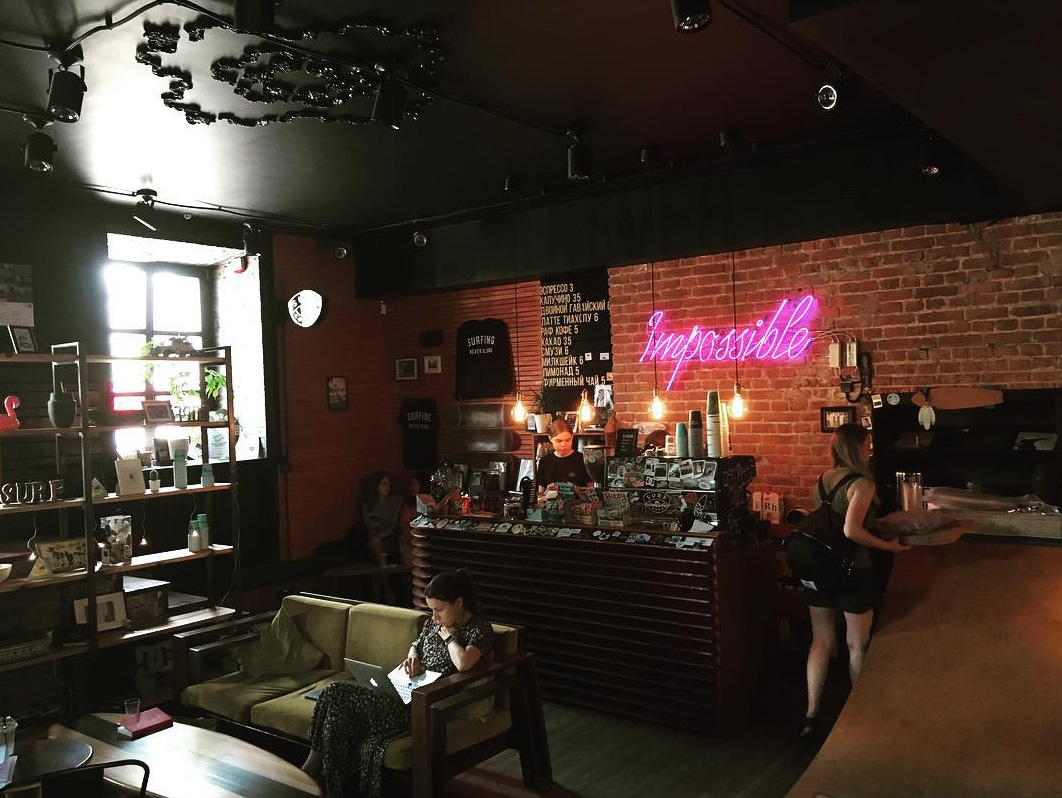 vulica Kirava, 19
Mon-Sun 8:00 a.m.-11:00 p.m.
Unlike most coffee shops, this place is not really suitable for a business meeting, but it is for the better – you can't be serious all the time. Drop by Surf Coffee to experience the atmosphere of a beach bar with surfboards all around, wooden interior, and a cozy green terrace. Get a coffee, a milkshake or a homemade lemonade and jump right on ramp or a wide window sill.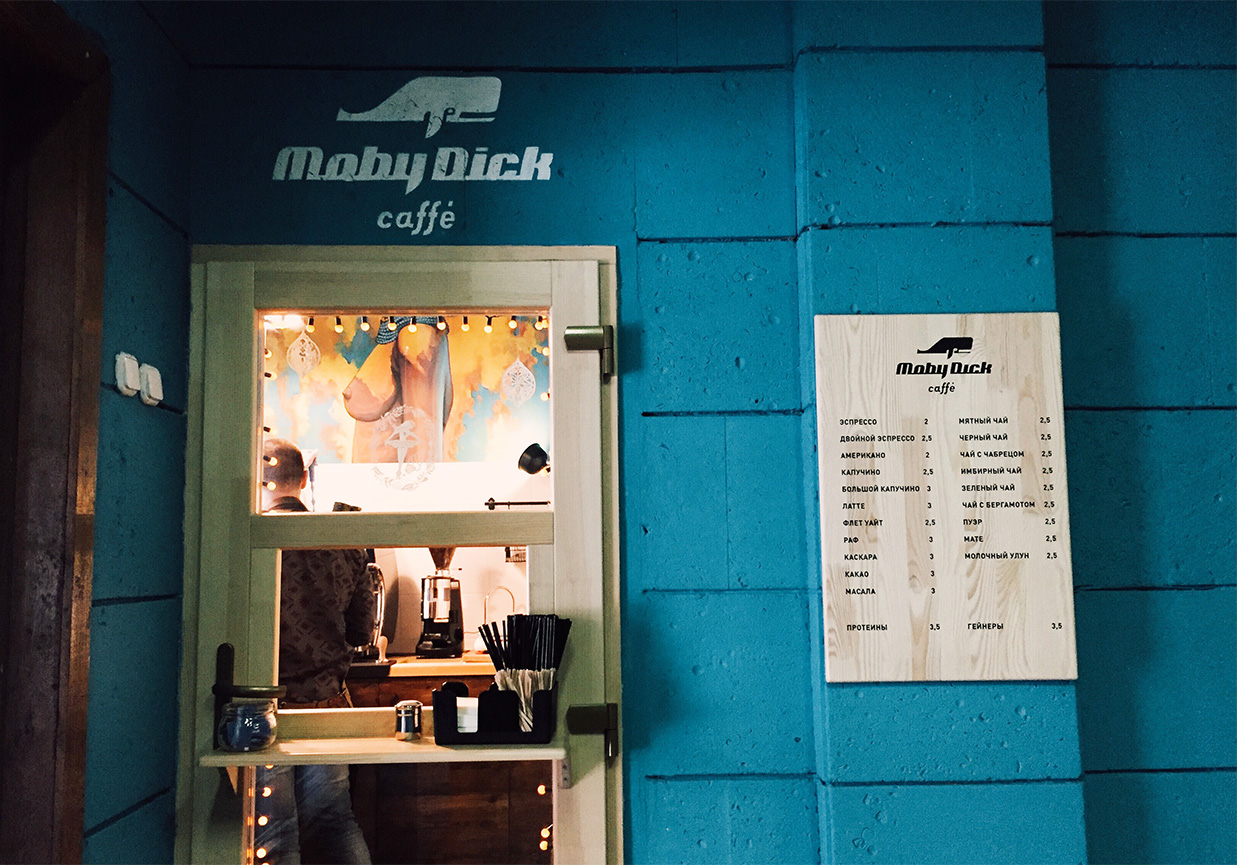 vulica Kastryčnickaja, 16
Mon-Sun 9:00 a.m.-10:00 p.m.
This small window coffee shop is situated on the first floor of the former factory building on Kastryčnickaja street and is fully consistent with the concept of the homonymous training gym: it is stylish, democratic and of high quality. The technology of brewing is checked in details (and grams). They use lever coffee machine Astoria Gloria from Italy. The principle how this machine works is that barista creates pressure himself. In winter you can have a take-away coffee here, and during the warm season you can opt for taking a table outside the coffee shop and listen to live music. In addition, there's a good menu selection of teas, masala and mate.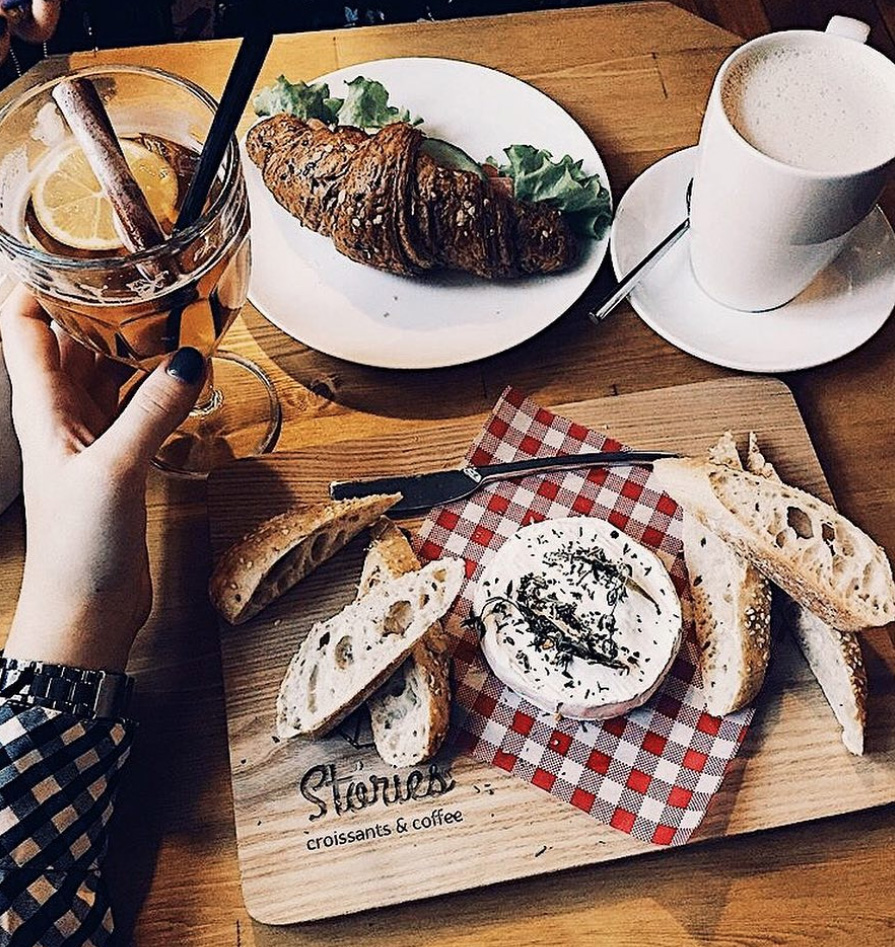 vulica Internacyjanalnaja, 14
Mon-Fr 8.30 a.m.-10 p.m. Sat-Sun 10 a.m.-11 p.m.
Stories Coffee Shop is located in quiet city center. Sit by the window to feel a true Parisian vibe. In addition to good quality coffee, perhaps the best croissants in the city are served: with chocolate, blueberry, lemon and other delicious fillings. You can get granola or a rich sandwich in the morning or a decent glass of wine in the evening. All this is accompanied by soft vinyl music.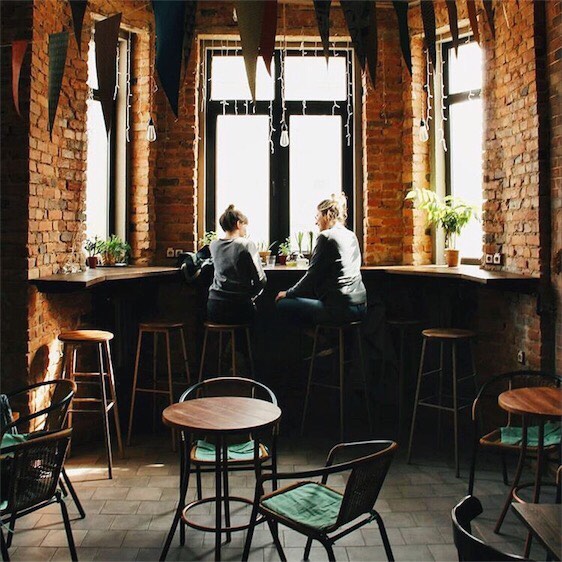 vulica Sviardłova, 26
Mon-Fri 8:00 a.m.-11:00 p.m. Sat-Sun: 9:00 a.m.- 11:00 p.m.
A coffee house in a neo-classical Stalin-era building next to the railway station, where one can have a breakfast, work for a while or simply caulk off the bustle. Sorts of coffee are changing frequently here. Alternative brewing methods are available, though it may take a while. Among visitors there are a lot of students of nearby universities.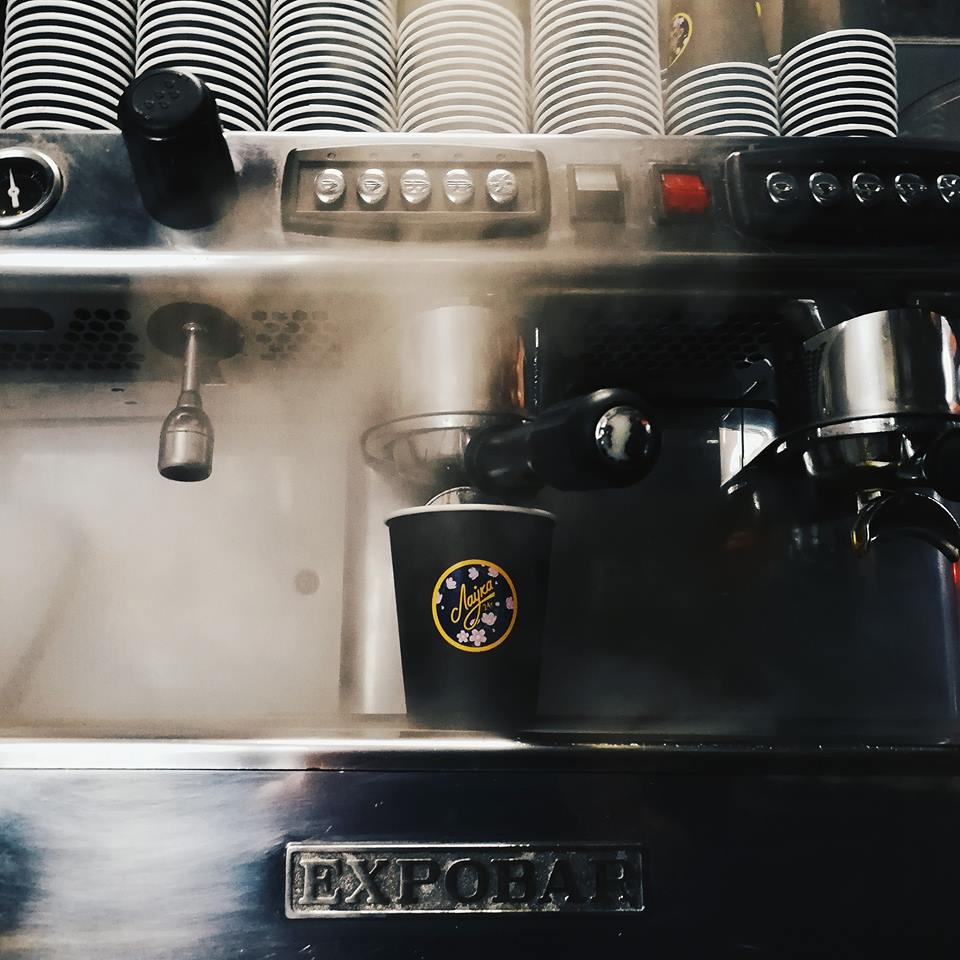 vulica Kastryčnickaja, 23
24/7, breaks: 8.30 a.m.-9 a.m. 8.30 p.m.-9 p.m.

This place without day-offs and breaks creates the atmosphere of the entire Kastryčnickaja street. Good coffee and original sandwiches (take away only), and the coziest and coolest backyard of the city with concerts, festivals, parties and movie screenings.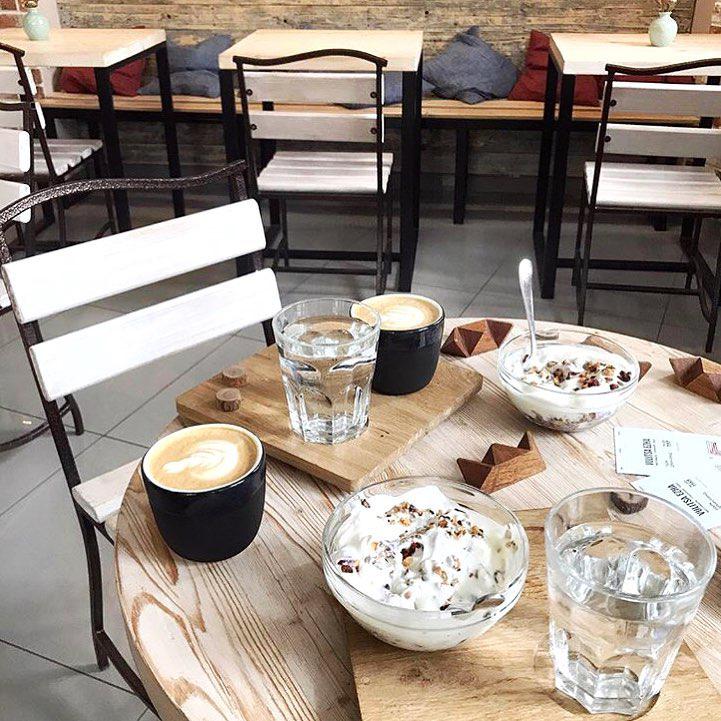 praspiekt Niezaležnasci, 43
Mon-Fri 8:00 a.m.-11:00 p.m. S at-Sun 10:00 a.m.-11:00 p.m.
Mesto is a third wave coffee house – only specialty freshly roasted coffee is served here. Find it near Płošča Pieramohi subway station.