Freelancer Favorites in Minsk
We know how difficult it can be to find a secluded place in an unfamiliar city, where you can work quietly, answer emails, make Skype calls or do pretty much whatever what you need to. So here is the list of the favorite places of Minsk freelancers.
Coffeehouses
26

vulica Sviardlova, 26
Mon-Fri: 8 a.m. - 11 p.m.
Sat-Sun: 9 a.m. - 11 p.m.
This is a great example of a typical European coffee house that has its unique soul. Created to brew excellent coffee for the people, experiment with roasting, and maybe travel a bit for another tip. Come here to be surrounded by 100-year-old brick walls and seductive coffee aroma.

Seadog & Friends Coffee

vulica Zalataia Horka, 1
Mon-Fri: 8 a.m. - 10 p.m.
Sat-Sun: 9 a.m. - 10 p.m.

Instagram | Facebook | seadogcoffee.com
This coffee shop is super bright, cozy and has good energy. Best for producing first-class creative concepts. By the way, it's dog-friendly.

Why Knot

vulica Valadarskaha, 21
Sun-Thu: 9 a.m. - 10 p.m.
Fri-Sat: 9 a.m. - 11 p.m.

Instagram | Facebook | knotcoffee.by
This coffee shop is not only a cozy place for freelancers. It has a wide range of high-class coffee from all over the world. Buy yourself a cuppa joe, ingest a glacé cupcake, and prepare for a remarkably productive work day.

Manufaktura

vulica Karla Marksa, 17
Mon-Sun: 9 a.m. - 11 p.m.
Manufaktura offers a serious diversity of hot drinks, breakfasts, and sandwiches and free wifi. Bright interior with wooden handmade furniture is ideal for meetings with friends and colleagues.

Zerno

praspiekt Niezależnasci, 46
Mon-Fri: 7 a.m. - 11 p.m.
Sat-Sun: 9 a.m. - 11 p.m.
Zerno is another cute place in the city center. They love their job and pay lots of attention to roasting and brewing. Come here for a quiet work shift with a cup of incredibly good coffee and homemade desserts.

Surf Coffee

vulica Kirava, 19
Mon-Fri: 8 a.m. - 11 p.m.
Sat-Sun: 10 a.m. - 11 p.m.
This cafe will teleport you to a sunny California beach. They have breakfasts, fine coffee, a load of vegan options, and a skate ramp inside. You can not only pamper you Insta feed here but have a comfortable and successful workday too.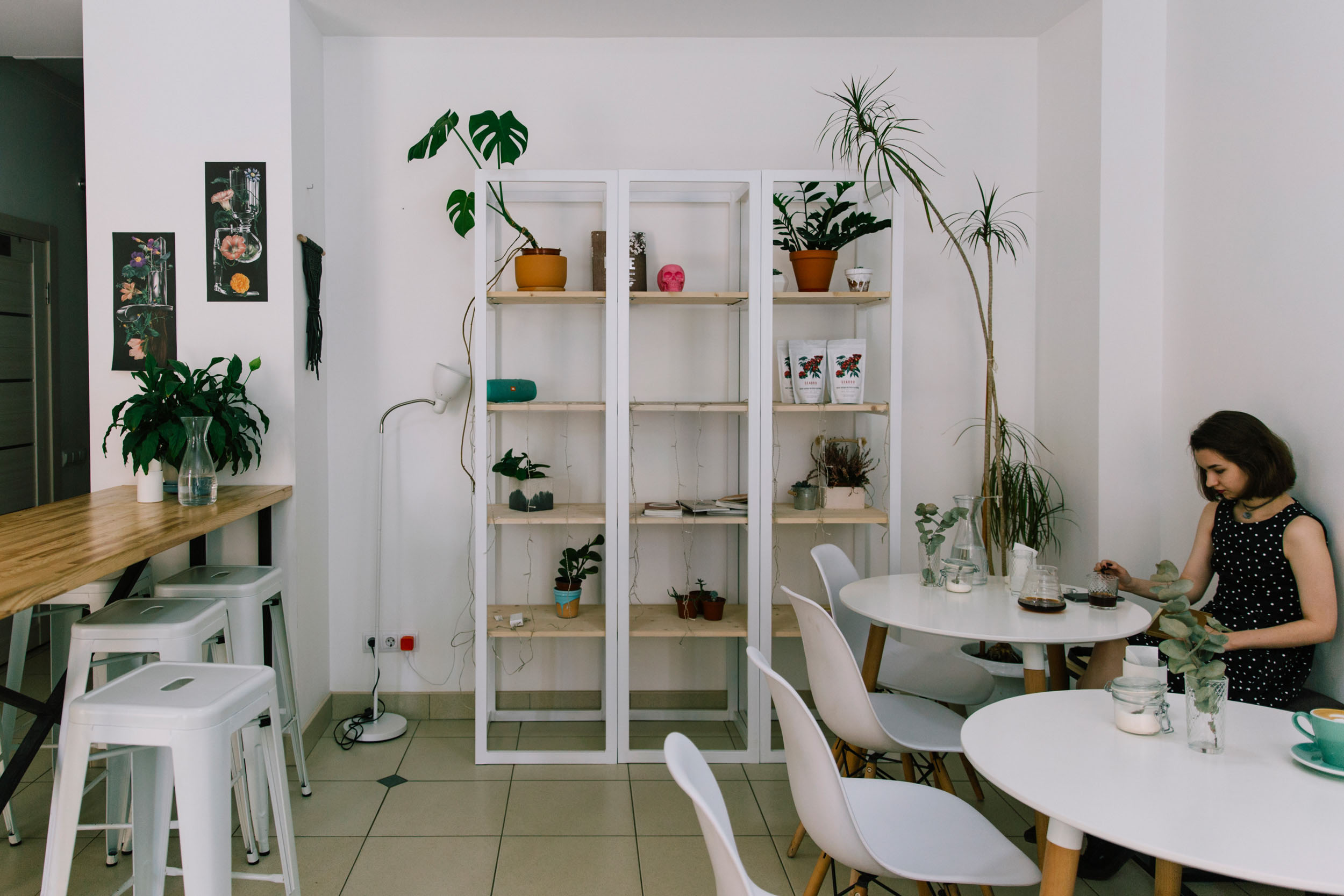 Coworking Spaces
Imaguru

vulica Fabrycyûsa, 4
8 a.m. - 10 p.m.
Imaguru is a startup hub, an event space, and also a coworking with pretty reasonable rent.
Just € 1,65 per hour, and you get a clean and simple desk, WiFi access and various vital treats. This place has a very flexible ticket system: you can buy 20 hours for € 25 as well as a month pass for € 124 with a mentor program and all the events and lectures included. Just check their website and choose a suitable rate.

Who is John Galt?

vulica Šornaia, 20
9 a.m. - 6 p.m.

john-galt.by
John Galt is hard to find, but pleasant to work in. It has 400 m2 of space where about a 100 self-employed individuals can get WiFi, coffee, and (what is really crucial) an unlimited amount of cookies for a moderate price.
You can pay hourly (€ 2) or buy a season ticket: 30 days of the fixed workplace for € 83, 20 days for € 72, and 10 days for € 44.

CIDR

vulica Niamiha, 3
9 a.m. - 5.20 p.m.
CIDR is a perfectly located open space. You can not only buy a single membership, but also a team workstation. WiFi, tea/coffee and cookies included. For some extra bills, one can also get an iMac, a Wacom tablet, a projector and a flipchart for any of their twisted freelance fantasies.
The fees are 20 days for € 101, 10 days for € 58, 5 days for € 33 for one person.
Photos by palasatka