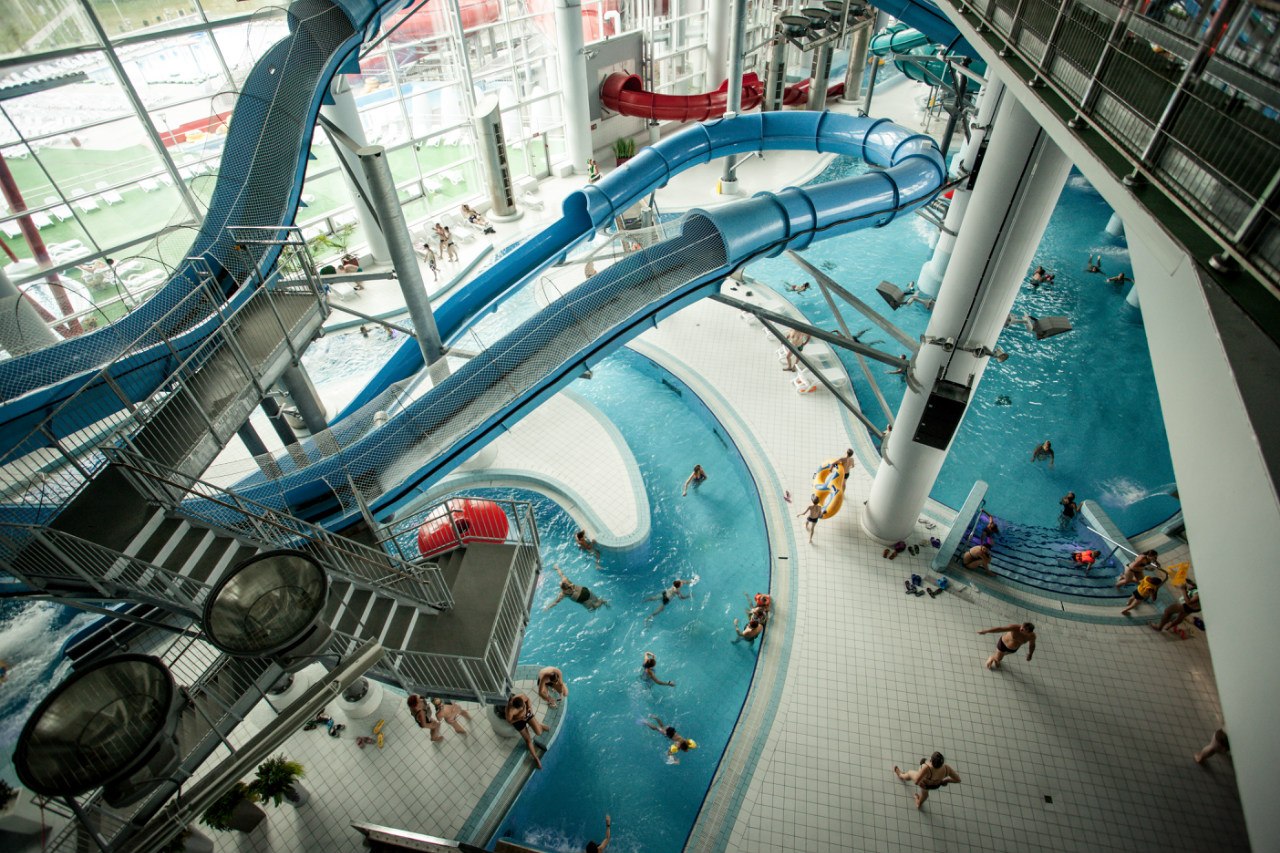 City Beaches and Swimming Pools to Escape the Heat
The best way to avoid the summer heat and cool down is to сome closer to the water. No matter if you're looking for glamorous chaise lounge chilling, flume rides or beach activities. The flow is yours! Here are the main locations in Minsk to relax, swim and dispel summertime sadness.
Water Parks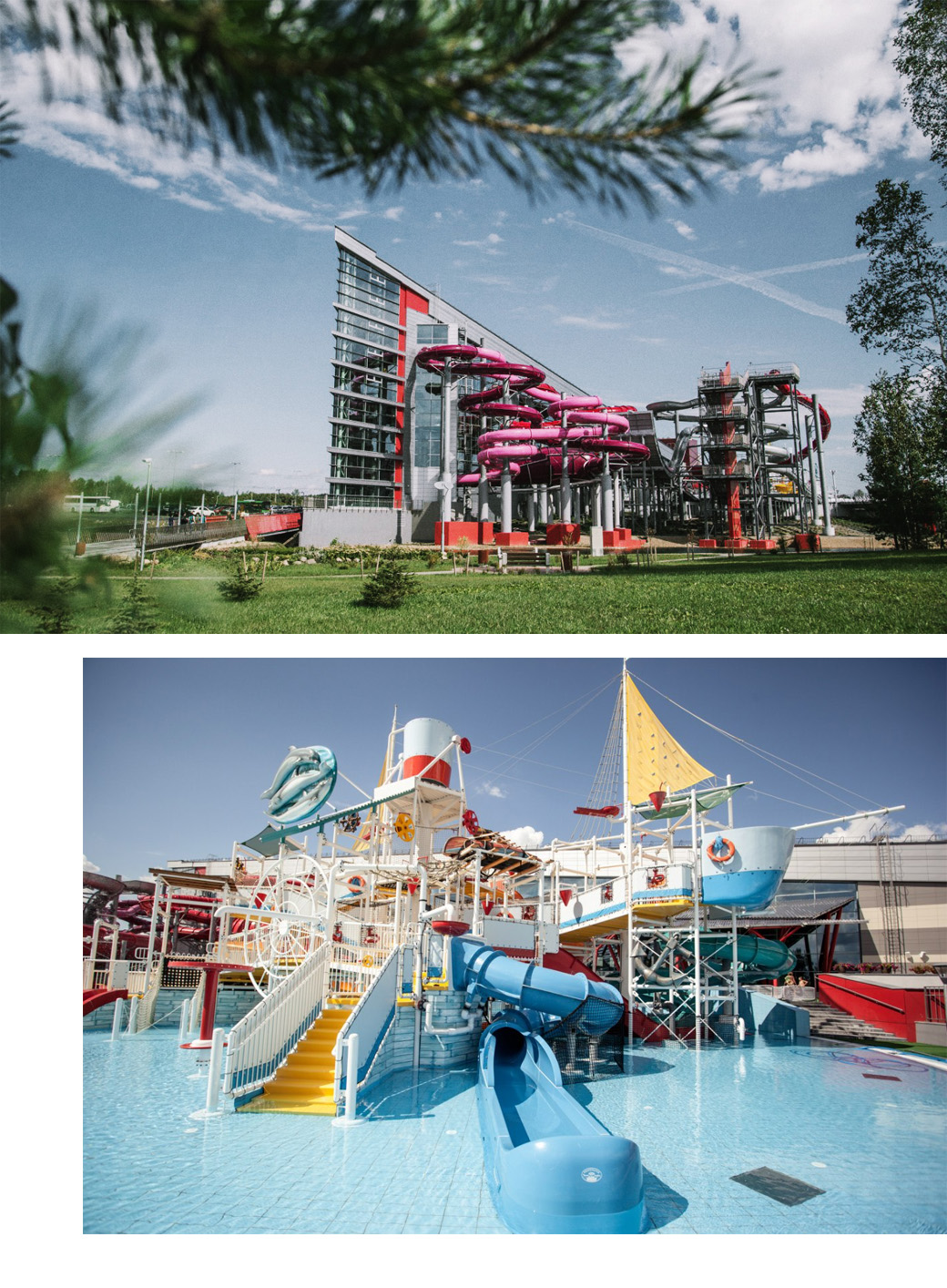 Lebiazhy
Praspiekt Pieramožhcaŭ 120
Mon-Sun 9 a.m. – 11 p.m.
Price: from € 30 per day
The newer and the fancy one. The Lebiazhy Complex claims to be the largest water park in Belarus and for the same holds the 5th place in European rating. On its 5 floors, there are indoor and outdoor areas (with 7 and 4 slides respectively) and 2 big car parking. Aquatorias are stylized to the lost woody landscape with lagoons, grotto, caves and trees. Some special zones for kids are developed as well. There are some extras: during your visit there check out the food zone, SPA, saunas and baths (Turkish, Russian, etc.), massage and try surfboarding on artificial waves. In the River Park Wake Park on the territory of the Lebiazhy Complex, you can try wakeboarding (on the reverse or following the boat) as well as padding on a SUP-surf or a boat. The complex is accessible for people with disabilities.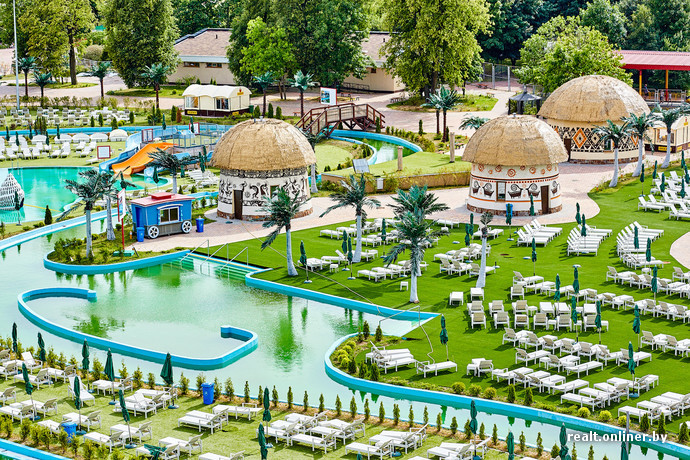 Dreamland
Vulica Arloŭskaja 80
Mon-Sun 10 a.m. – 9 p.m.
Price: from € 8 per day
If the weather does you a favor, joy yourself by visiting the Dreamland water park. It's a kind of resort in the very center of Minsk: huge, open-air, summerly-tuned and decorated in a bit bizarre way. The space of 90000 m2 is covered with 2000 free loungers and 550 beach umbrellas so that nearly 3000 of chillers can have their rest at the same time without bothering each other. Of course, here you'll get the slides, swimming pools, attractions (e.g. 3D virtual reality), workout sessions, yoga, food courts and animations or quests for children. Dreamland gives off the unique recreative vibe and makes you feel like you've found an oasis in the city. It's also an inclusive park.

dreamland.by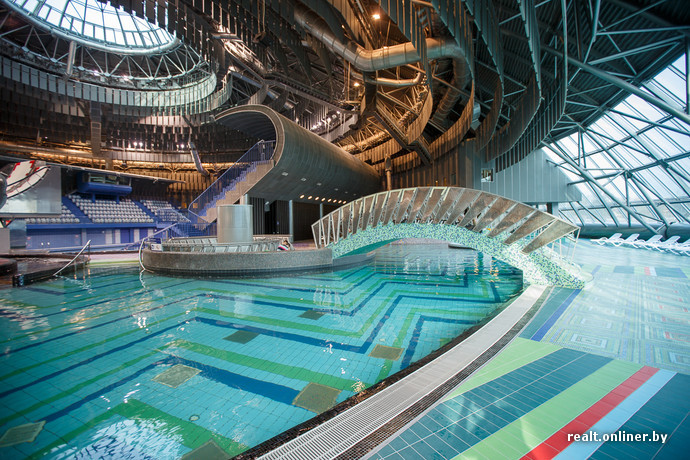 Freestyle
Vulica Surhanava 4a
Mon 3 p.m. – 10 p.m.
Tue-Fr 11 a.m. – 10 p.m.
Sat-Sun 9 a.m. – 10 p.m.
Price: from € 8 per day
Indoor water park only. Nevertheless, it's equipped quite well: 4 different pools (2 for children and 2 for adults), slides with interactive sensors to make 3D-effects, baths and SPA, jacuzzis, floating therapy and some more options that won't bore you. To get something more choose bowling or billiard right there. Freestyle has a special cafe and a food zone. It also offers comfortable conditions for people with disabilities.

free-style.by

Open Air Swimming Pools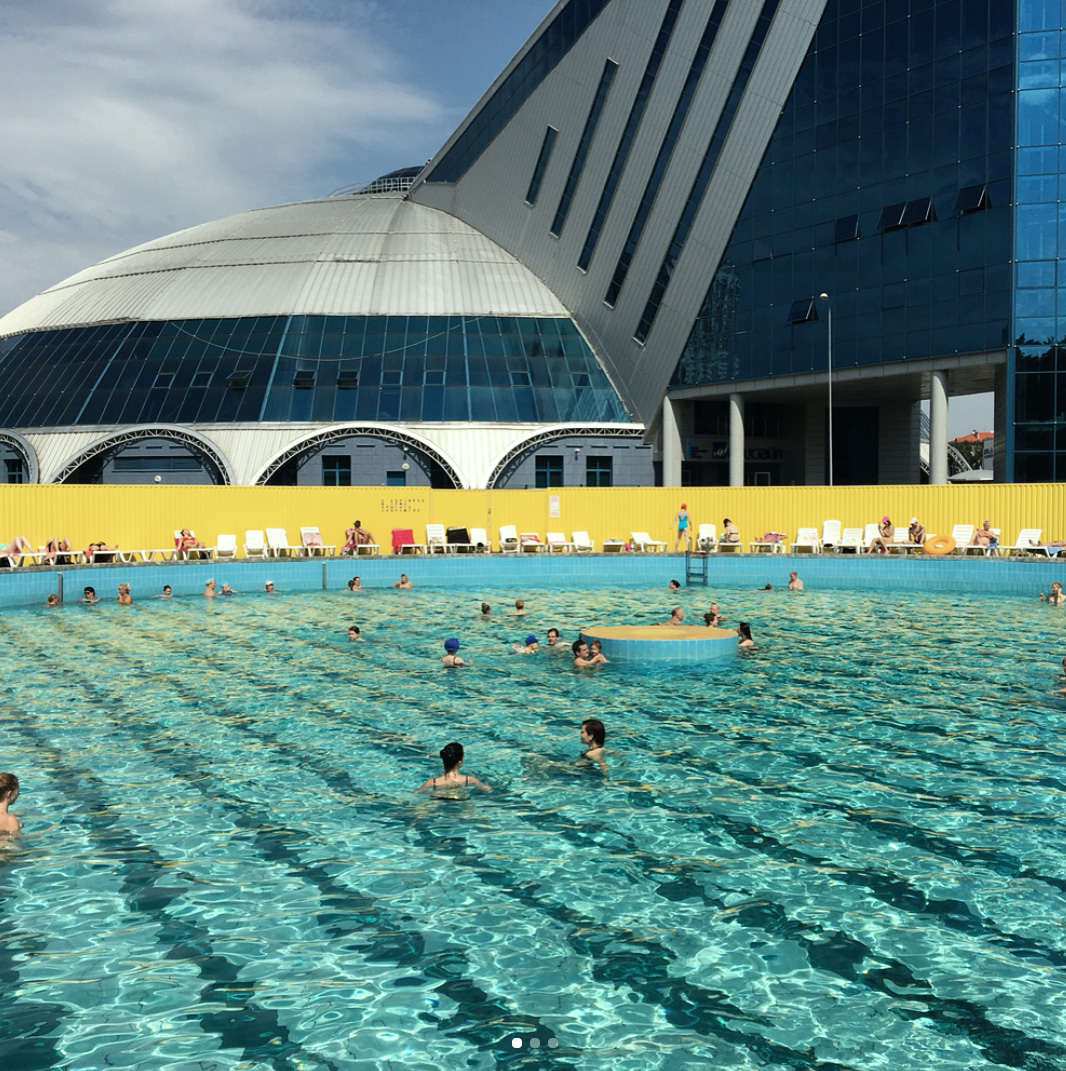 Summer Terrace at The Water Sports Palace
Vulica Surhanava 2a
Mon-Sun 11 a.m. – 8 p.m.
Price: from € 7/ 8,5 per day
This swimming pool is proud of its remarkable filling – mineral water and thermal baths. The outdoor summer terrace is divided into 2 zones: the standard one and shielded VIP (it is a real palace, you know). Chaise lounges, indoor pools, DJ sets that are sworn to be good and areas for kids are at your disposal. In case you want to be involved in sports activities there're many more offers: beach football and volleyball, tennis, streetball, and petanque. The place is quite popular with the locals, so go for it safely.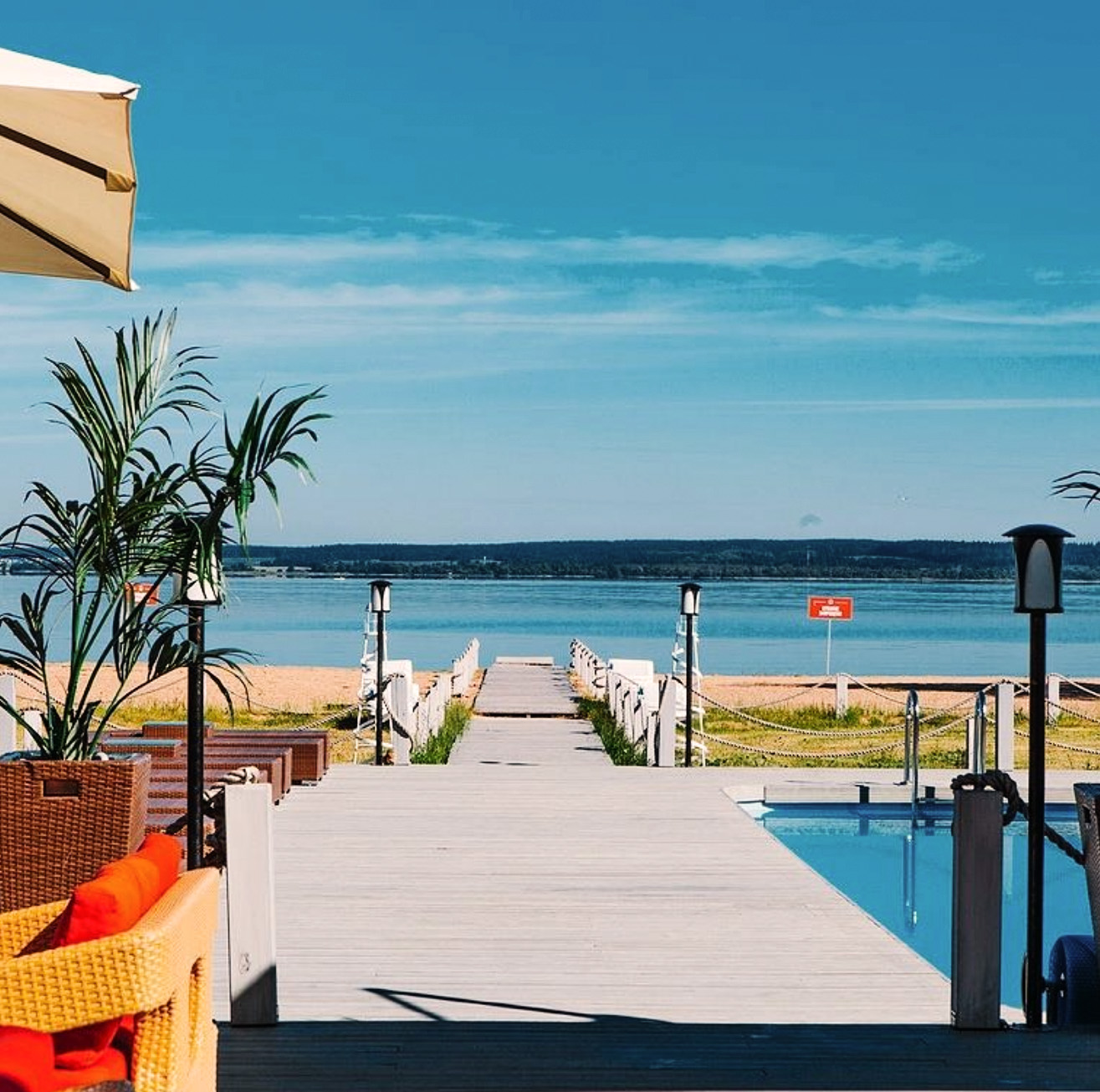 Club Beach
Zarečča 1
Tue-Sun 12 a.m. – 11 p.m.
Price: from € 7 per day
The open-air swimming pool is located a bit beyond the city: in the «Club Beach» country club. Its lounge area is a part of the Café Leto. This place is surrounded by the embankment of the beach near the Minsk Sea, the pier for yachts and open bar. The pool is tiny, suitable only for quick cooling down or hanging out on a beach chair somewhere around. But the place itself is picturesque and completely wealthy.

Facebook

City Beaches
As much as it burns your skin, not everywhere it's possible to take a lifesaving dip. Places good for swimming are mainly in the North-West of Minsk, while it's not likely to dive into waters of the river Svislač or reservoirs of the southern part of the city. Still, you can take a walk along them if there's nothing else to do with the heat. In order to take out in public your pretty swimming suite note these city beaches.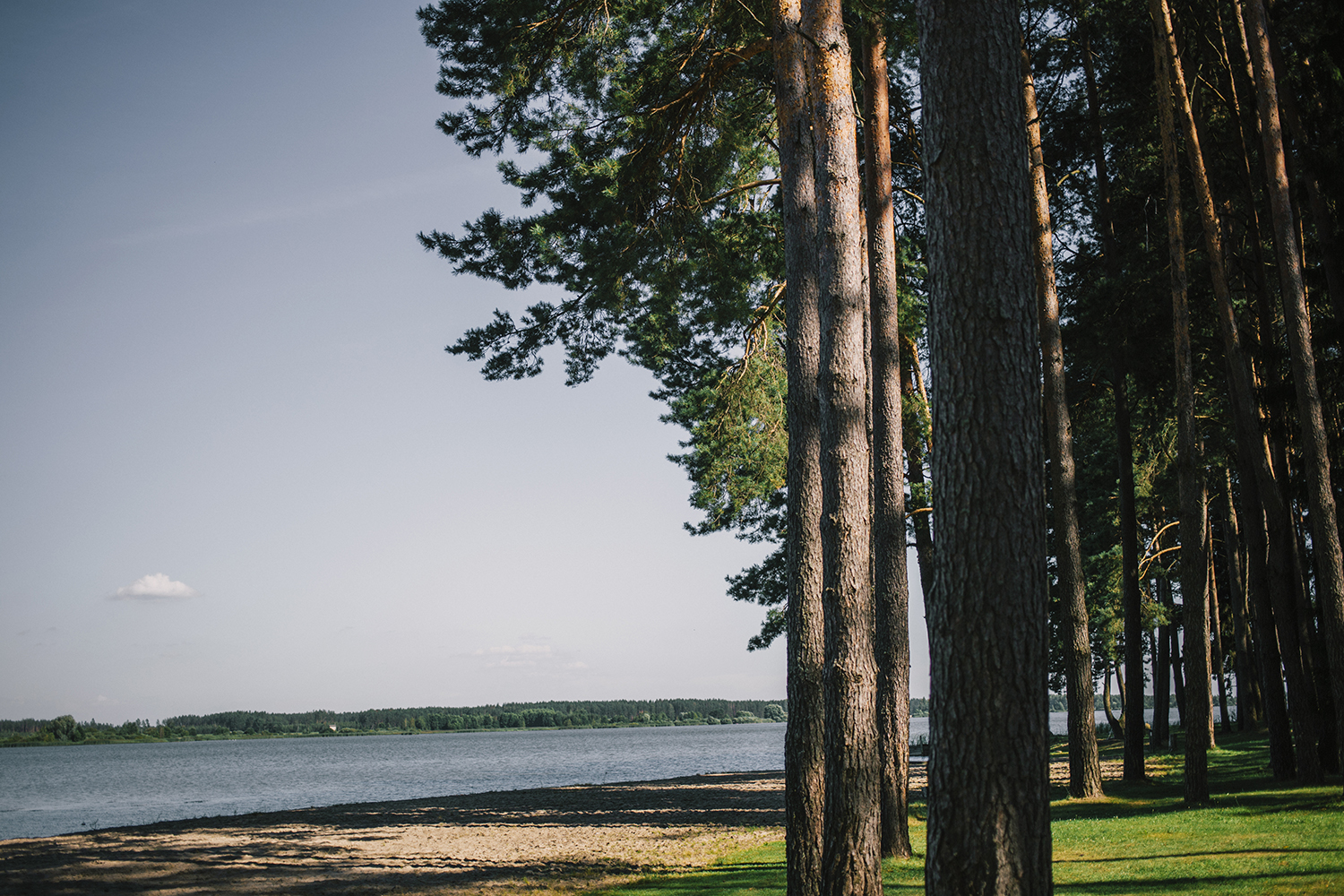 Kamsamolskaje Lake
GPS 53.91972, 27.53041
Easy to get there, easy to be there. You'll tell this beach by noticeable infrastructure: changing booths, water pump, tents, WC, summer cafes and free parking. Boats and catamarans are available for rent. Sports fans will love volleyball and football zones and there are also different kinds of swings for kids.

Cnianskaje Reservoir
GPS 53.95691, 27.58088
The place is quite raw but calm and nice. In addition to several sandy beaches, there are a marina, boat and guard stations and a park nearby. There's no parking and any cafe, so plan your visit through the Mirašničenka street. The place is perfect to get away from the city fuss.

Minsk Sea (Zaslaŭskaje Reservoir)
GPS 53.98471, 27.38223
The name of the Minsk Sea is not random. This artificial reservoir impresses with its expanse: the 2nd largest in the country. Either it can do with its clear water. All that and even more make this place probably the most popular with the citizens. But you won't face lack of space: its' more than enough. The beach zone is well-equipped. The key thing is the scenery.
Drazdy
GPS 53.96052, 27.45044
A well-organized piece of nature. Here you'll find everything to feel comfortable both for swimming and rest under wide trees: beside the beach zone with umbrellas, changing booths and WC there is a lovely green park. The Drazdy reservoir is one of the most cultured water zones in Minsk, which is located in its quiet and wealthy cottage part.
Krynica
GPS 53.95529, 27.42593
Krynica attracts people because it's simply untouched. Nevertheless everything there is prepared for accidental resters, the beach looks a bit wild and that's why it charms. Enjoy the nature around you, don't get lost in a pine forest and help yourself with showers, changing booths, WC, etc. If you want a beach chair, you'd better take it with you in advance.

Photos: palasatka, waterpark.by, onliner.by, nadzeya26